Like many other people, I have a list of things on my mind which I want to achieve in the new year. For 2019 I set out to achieve the following goals among other things:
Write and publish blog posts regularly
Read every day
Speak a meetups and conferences
Now, the first 6 month of 2019 are behind us and it's a good time to look back and review what I have achieved so far.
Blogging
Actually, I launched my blog back in September 2018 by publishing my first blog post. My intention for starting the blog was just to get into the habit of writing regularly about the stuff I learn. Basically, it's just practicing what I preach to my teammates all the time. Additionally, I wanted to be able to refer teammates and colleagues to my blog for answers to questions I already have written about. This way I wanted to get rid of explaining the same things again and again.
Despite the aspiring goal I set for myself it took until the end of January to actually get the second post published to this blog. Since then I was able to publish 22 blog posts, including this one, over the course of 22 weeks. For me personally this is a pretty impressive achievement and I'm very happy with it.
Although I did not start the blog with a focus on getting lots of traffic or building an audience I'm pretty impressed by the growth of visitors to my blog. Since January the monthly traffic grew more than 120% on average.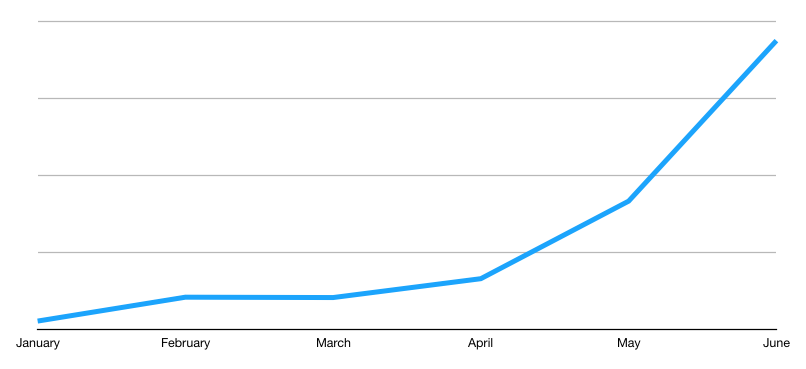 At least some of the topics I write about seem to be interesting for others. This growth alone motivates me to continue writing and publishing articles. Unfortunately, since I do not have a feedback channel on my blog (yet) I don't know if my posts are actually valuable to my readers.
Reading
Various studies and examples show that a common theme across successful people is their habit of reading. Reading has the advantage of learning from the experiences of others without making the same mistakes - or at least just some of them. Furthermore, it opens up the mind for new thoughts and helps getting a new perspective on things.
I have always been reading a lot. Unfortunately, in the last couple of years I lost this habit. That's why I made the decision to incorporate it into my daily schedule again. My simple goal was to read from a book for at least 15 minutes a day.
When I prepared this review I was surprised to see that I have been reading about 2 books per month on average!
Here's the list:
For me, this is quite an achievement. I already learned a lot and gained some interesting new perspectives. Furthermore, I have a lot more books on my reading list which makes it easy to continue this valuable habit.
Speaking
In 2018 I had the opportunity to talk at two conferences, the W-JAX in Munich and an internal one at my company. Although preparing the talk and giving it was a little bit stressful to say also was a lot of fun and very encouraging. Therefore, I set the goal for 2019 to improve and practice my speaker skills by giving talks at Meetups and conferences.
In the first half of this year I was able to talk at 4 Meetups at various locations in Germany. Most of the time I talked about a Serverless Application Development project I worked on with my team in 2018. At one event my talk was recorded so I can share it with you.
It's amazing how many times you are able to recycle a talk and adjust it to changing audiences. Every time it became easier to give the presentation and talk in front of a group of strangers.
Additionally, I did participate in the call for papers for various conferences. Unfortunately, none of my proposals have been selected yet. But I will continue to hand in proposals for talks at other conferences and sooner or later I'm sure that I will be selected and get the opportunity to speak at those occasions.
Summary
Up until now I'm pretty proud of what I have achieved in the first 6 month of this year. This motivates me to continue on this journey and see what I will be able to build on this foundation. I already started on building some new habits based on the things I learned from the books I read. I also have some ideas for content to post to my blog and hope to stay on my path.